Ha, you were doing pretty well when I left you guys at the pub.
Fine with me!
I'm going to put out an email asking everyone who attended to give a name and their Discourse username so we can match things up because a couple aren't obvious.
Let's just say the drinks got serious once we hit The Nightjar!
Huge thank you to @nathobson for being an excellent host and having us all round, I thought the night was great and would definitely come to another

Y'all - that really was fun! @nathobson sent me some awesome pics. I think this one's the best, even though it doesn't have him it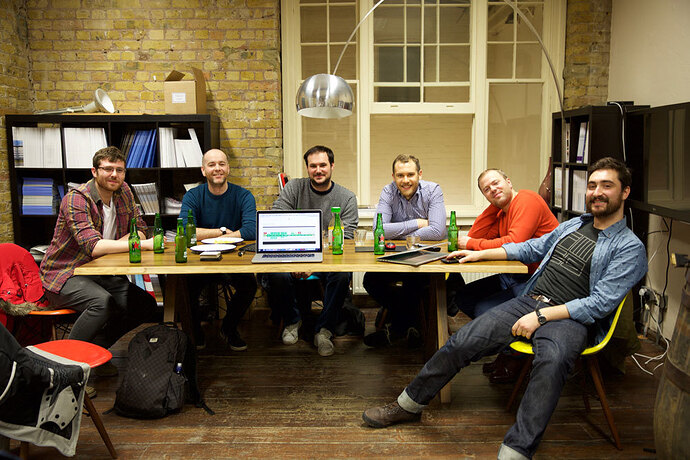 (thanks to Nat for the picture as well

)
Hi everyone - yes that was indeed a fun night, though I think I'm going to lay off the cocktails for a bit!! (I am Chris, in the blue jumper in the picture)
Looks like all had a good time, still a bit gutted I missed it (although snowboarding in Switzerland for a week eased the pain!) If there's ever an opportunity for another London meetup I'm definitely game.
Hey @nathobson (and everyone else!) - hope you're well?
Should we start talking about the next Roots meetup? We could put some dates out there over the next 2-3 weeks and see what suits?
Hey. Sorry for the slow reply. I'm definitely up for it.
Anyone else up for another or a first time if you missed the last one?
Really need to get a mailing list together, let me work on that!
yes, I'd be up for another meet. maybe we can structure it a little around a project presentation or something, though also up for a social!
Probably won't be able to come to this one but it would be nice if you would be able to make a video/screencast with sound for others that can't come

Yeah, definitely. I do like the idea of some micro-presentations too.
Sounds like a great idea to me

Hey @nathobson - anything I can do to help set up the next meet?

Apologies, not had a lot of time to put this together. Definitely interesting in doing so though.
I think a new thread at some point soon with some proposed dates would be a good start. Also, happy to have meetup #2 at the CKD studio again but also open to any alternative suggestions

Ha, no worries, I know how it is! Hope all is going well!
Your studio was a nice space, so that would be cool imo, otherwise if there's too many peeps to squeeze in there, I'm sure there's 1 or 2 bars nearby that would suit

Perhaps if we get a feel for numbers we can decide then?
I'd be very keen to join since I missed last time. Wednesdays are usually bad for me though, so I'd vote for any other day if such a thing was up to voting.
I've had luck using Doodle to find the best date for a meetup before
Thanks for the replies guys. I'll get a new thread started today or tomorrow.
Date is definitely up for discussion

Doodle is so simple, but so clever… I only found out about it recently!
Is there another London p̶i̶s̶s̶u̶p̶ meet up in the planning?
I'd also be interested also to see who's up for Sage based theme building from visuals/wireframes… Within London and reasonable travel distance being most ideal.
@doug @nathobson shall we make this happen? you can pm me and we can sort out the details?