Hi!
I recently started using Sage for my projects and I have a question. I researched a few topics with no luck ~
Bootstrap is great, but I want to add another SASS framework.
My steps:
bower install web-starter-kit in terminal
The folder is then created under Bower Components
To my understanding, wiredep will automatically inject the dependency in the main.sass which then will compile to the main.css.
This not only applies to Google Web Starter, but to any other framework (Bourbon, Semantic UI, etc.).
Is there anything I'm missing? I read through several tutorials but I can't seem to get this to work. Of course I can just add everything manually in the folders but that defeats the whole purpose of using Bower and this workflow in my opinion.
I apologize if this is a pretty basic question!
Thanks!
Mateo.
Here are my current bower components: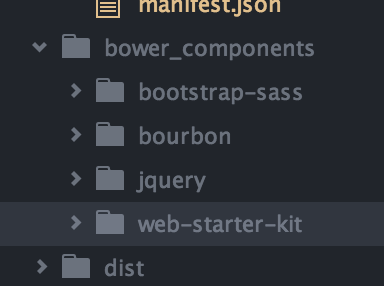 Here is where the dependencies are supposed to appear: