OK so I have installed Laravel/Homestead. Don't fully understand everything yet, but I am also using vagrant box. I have installed bedrock on my virtual machine, as well as the Sage theme. Now I began to play around with my WordPress install, but I have noticed that my SCSS / CSS does not seem to be loading on the front end of my site.
I believe this is due to the fact that I do not have some kind of compiler installed in this web stack yet ( I am new to SCSS, compilers, Laravel, etc ). I've been reading the laravel Mix documentation for the past few days and I believe this is what I need to get things working properly.
Inside my sage theme file I ran ( npm install ), which is supposed to be the first step in installing laravel mix. I receive this error after the command runs for a while. I believe it is supposed to generate a dev file or folder, but instead I receive a few errors: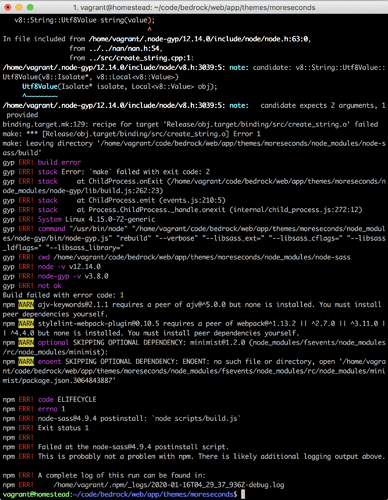 Can someone please explain to me how I can setup Laravel Mix? If I understand correctly I need a compiler for my SCSS code, and I would like to use the "watch" function so that when SCSS/JS files on my local machine are saved, the changes are immediately sent to the local dev site without me having to reload the page.