ok, I am trying to deploy on web but with no luck.
I can just work via FTP and in a subfolder, not in the root.
ran build:production then created on FTP a subfolder /av2021/
.env:
        DB_NAME=hosting_db_name
        DB_USER=hosting_db_user
        DB_PASSWORD=hosting_db_pwd

    # Optionally, you can use a data source name (DSN)
    # When using a DSN, you can remove the DB_NAME, DB_USER, DB_PASSWORD, and DB_HOST variables
    # DATABASE_URL='mysql://database_user:database_password@database_host:database_port/database_name'

    # Optional variables
    DB_HOST='127.0.0.1'
    DB_PREFIX='mypreifx_'

    WP_ENV='development'
    #WP_ENV='staging'
    WP_HOME='https://atravisio.com/av2021/'
    WP_SITEURL="https://atravisio.com/av2021/wp/"
    WP_DEBUG_LOG='https://atravisio.com/av2021/debug.log'
    WP_DEBUG=true

    # Generate your keys here: https://roots.io/salts.html
....

then I have moved the files in the subfolders with .env and dist as well, but also with all the rest of them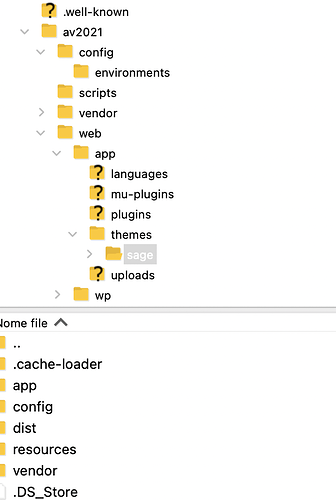 something were not good as when I tried to access https://atravisio.com/av2021/ I was redirected to
https://atravisio.com/av2021/WP_HOME/wp/wp-install.php as if no WP_HOME url variable where loaded

overrode it by going to https://atravisio.com/av2021/wp/wp-install.php and.could manage to install WP even the CSS was broken

now, no matter I change the settings, I keep receiving 404 error…
3.1 manually overrode DB options



3.2 changed the location of index.php file and moved in /av2021/ (changed the inner path to the blog header too require __DIR__ . 'web/wp/wp-blog-header.php'; no luck
3.3 restored the index position inside /web/ and updated application.php to have the root in av2021/ no luck
so I am seeking help here


is there any guide or is there some nice guy willing to help me?