Hi, I have been struggling with this for a while now but thought I should try out a fresh copy of Sage to get to the bottom of it.
I have set up a fresh install of Sage 9b3, and have Elementor + Elementor Pro installed. I create a new carousel gallery / slider widget (which they use slick.js for) with Elementor and publish it. Everything works great inside the Elementor editor, but on the published page, the slider doesn't load and the console says: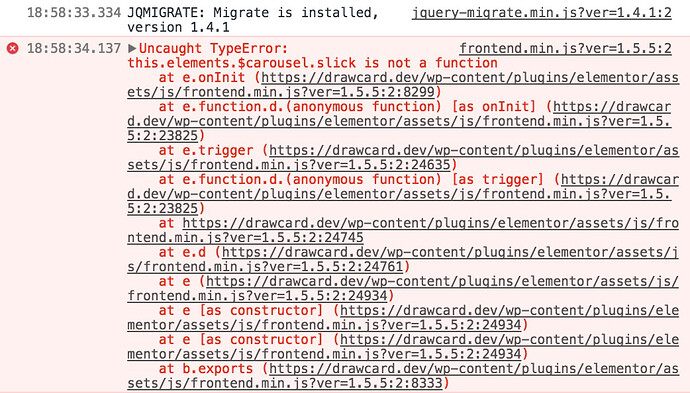 The carousel works flawlessly when Wordpress' 2016 theme is activated, so I don't think it's something to do with the plugin, or WP itself. I've also tried this out on other Sage 9 + Elementor sites I have, and the same problem happens.
I have lodged an issue on their Github site too but it doesn't seem to get very far. My gut feeling is that Jquery is being called twice somewhere, and that's causing the function to fail.
How does Sage 9 initialise Jquery? What part of the code would I need to disable to test this idea out? Is it possible to run two versions at once in some kind of no-conflict mode I wonder?
Any thoughts / insights would be greatly appreciated.