I'm trying to integrate WooCommerce into my Sage theme, which i've done before but this time something is causing an infinite loop when loading templates on the product page.
I've uploaded a screenshot of folder structure and code to better illustrate the issue: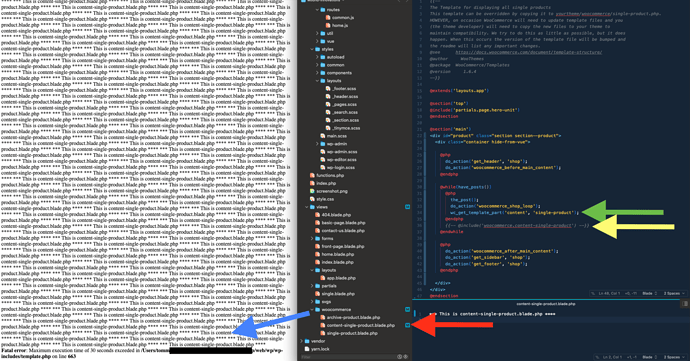 Things to note:
Right side of screen i get Fatal error: Maximum execution time of 30 seconds exceeded error (Blue arrow) because it's stuck in a loop loading the content-single-product.blade.php template
If I remove content-single-product.blade.php (red arrow) everything loads OK
or, if I remove wc_get_template_part() function (green arrow) and use the blade style @include (yellow arrow) then it also works
So, there is something about the way the template is loaded via wc_get_template_part() that is causing an infinite loop. but i'm not sure where to look to try to fix it!
any help would be greatly appreciated!