Hello roots community,
In advance: I've also noticed as a new user, I can only have two images in the post (and 4 links), I thought it worthwhile to show as much info as possible, as such I've used a combination of the two.
I'm having an issue where the Wordpress site is not appearing, instead it's showing me: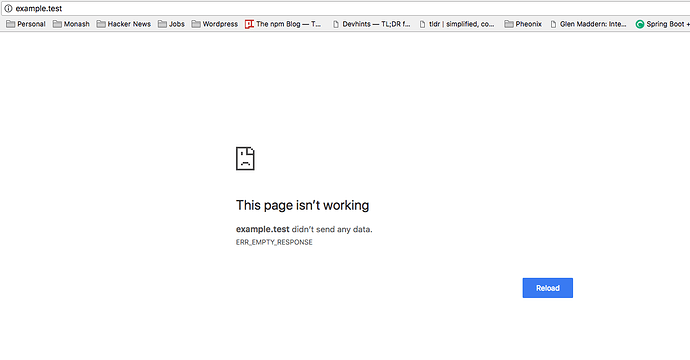 I've tried my google-fu and attempted a few things, including:
Opting to use .test opposed to .dev
vagrant ssh and check:

If I can vagrant ssh (success)
cd into /srv/www/example.com/logs and checked logs (access and error.log). If I cat the two files I get a blank, presumably that's ideal
If I run: sudo service nginx status I get the following: Image 2018-08-22 at 9.28.09 am
Which seems to be operating correctly
To further diagnose the issue I've checked that vagrant hostmanager is doing it's thing in /etc/hosts, which seems to be okay: Image 2018-08-22 at 9.27.39 am
When I ping example.test (which is the canonical url in development/wordpress_sites.yml) I get the following: Image 2018-08-22 at 9.26.12 am
When I curl example.test I get: Image 2018-08-22 at 9.26.44 am
That's the only slightly negative thing I have run into while looking for any clues and even so, that makes sense.
I'm unsure on where to go with this at the moment, any help would be greatly appreciated.
Cheers,