Hello, this is my first post here!
I've been trying to create a Wordpress Boilerplate with webpack and Docker, only with Root's Wordpress I've managed to have something cool.
For now, I'm doing the DB changes automagically for testing purposes.
I do everything in my http://localhost:8080, I export the DB, then I push.
My test pipeline executes the following commands (In that order)
'composer install -n --no-dev --ignore-platform-reqs --optimize-autoloader --prefer-dist'

'chmod 775 composer.json'

'chmod 775 composer.lock'

'chmod -R 775 web/app/themes/*'

'wp-cli db export exports/just-in-case.sql'

'wp-cli db import exports/sql-dump-development.sql'
(All the permission changes are my attempts to get this working)
The problem is that when I log in, I get this message:
The active theme is broken. Reverting to the default theme.
But the theme files are there, I can even see the theme in the dashboard (The active theme in my local is Boilerplate). I can select the theme manually again, but from the pipeline it does not work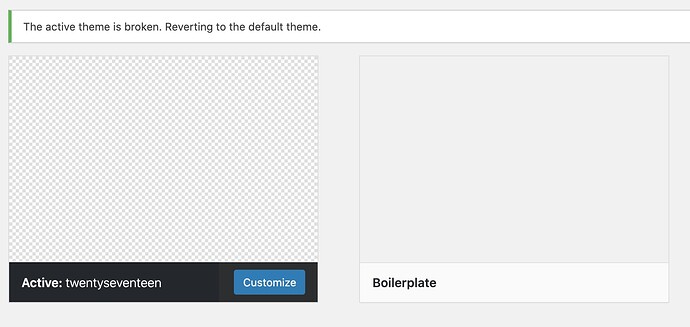 Can you spot something I'm missing?
Thanks!